CALIFORNIA EMPLOYEE HANDBOOKS
What If I Told You That Your Employee Handbook Might Actually Be the Biggest Liability For Your California Business?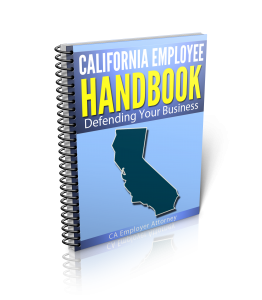 IF YOU CURRENTLY OWN A BUSINESS IN CALIFORNIA, OR IF YOU HAVE EMPLOYEES, THEN THIS INFORMATION IS FOR YOU.
Did you know that Forbes magazine recently ranked California as one of the 'Worst States for Business Owners to Get Sued'? California is one of the most regulated states in the nation for business and that leads to plenty of opportunities for employee lawsuits.
Studies show that 62% of  California Employers believe they will be sued by an employee at some point!
So what is the best way to protect your business and reduce chances of a costly lawsuit from an employee?
My answer to this question has always been for employers to have a professionally drafted handbook.
But over the past year my position has changed completely!
"One Of The

Biggest 

and 

Expensive

 

Threats

 To Your Business Is

Your

 Own Employee Handbooks!"
So have I gone crazy? All these years preaching the importance of Employee Handbooks and now all of a sudden a 180 degree turn?
Well let me explain. I have been protecting California Employers for over 15 years and one common trend is that employee side attorneys are always looking for new ways to separate you the employer from your money.
A new disturbing trend I have seen is Employee side attorneys are now using your own handbooks against you.
This is usually how it works.
The employee side attorney sends you a demand letter on behalf of the employee
The letter demands to see employee records and the employee handbook
The employee side attorney then spends hours pouring over your handbook looking for something wrong or outdated
Once they find something they then sue you for the original matter AND anything new they found
Yes, they really do this and it is very common. Here you are trying to do the right thing with an Employee Handbook and they are trying to use it to take further advantage of you!
If it was not so damn evil I might even give them some credit for being so inventive.
BUT… I have good news for you. As hard as these employee side attorneys have been working to come up with new tactics to separate you from all your hard earned money, I have also been working just as hard to keep it in your pocket.
Like every other attorney I have shouted from the rooftops for years that you need to have Employee Handbooks and now I am telling you they can be used against you.
So what is the solution? The solution is instead of an Employee Handbook you need professionally written Policies and Procedures!
So what is the difference? The biggest difference is Policies and Procedures are completely separate and individual. One of the biggest problems for employers is the laws constantly change and need to be updated.
But no one can keep up with that! You would have to completely replace your Handbook every 6 months!
Instead what you want is an individual policy or procedure for each issue. When a law is updated the language is changed in just that individual policy. That policy is then signed by the employee and reinserted back into the pack of policies and procedures.
We have been creating our Policies and Procedures to protect California business owners for years.
Now we offer 3 affordable packages to fit any California Employers budget.  we have made our handbooks
temporarily

available to all California business owners for an extremely affordable price.
Do you have problems with employees that is causing disruptions to your business?
Do you worry that you will be sued by one of your employees at some point?
Do you find yourself repeatedly answering questions about entitlements, roles and responsibilities?
How would you like to have a professional labor attorney dedicated only to California Employers create bullet proof Policies and Procedures for a fraction of the cost?!
Which of these policies and procedures could you use for your Business?
Employee Welcome Letter
Description of Employment Relationship
Arbitration Agreement *
Description of Payroll Policies
Harassment Policies
Employee Behavior Expectations
Drugs and Alcohol
Punctuality and Attendance
Dress Code
Electronic Media Policy (Computers, Cell Phones etc)
Benefits
Types of Leave
Termination Procedures
Dispute Resolution
Acknowledgement Agreement
*This is critical!
Our Policies and Procedures Pack have all of the above and MORE!
Okay, so what's the cost for this incredible resource?
Well, realize that not all California business owners are the same and have different levels of needs and budget.
That is why we offer 3 different packages.
Package One $750:
Arbitration Agreement
Package Two: $2,500
Total Policies Package
Package Three: $3,000
Onsite Visit Package
Start Protecting Your Business NOW!
So what's the catch? Why are we practically giving this resource away?
Well, it's simple. We want to protect as many California Employers as possible and offering the most inexpensive Labor attorney drafted Policies and Procedures you can buy is the way to do it. Plus, you're already paying a lot into your business. Why should you spend way more?
There is no risk whatsoever on your part. The burden to deliver is entirely on us.
You have 60 days to see if the Policies and Procudures are the "real deal" or not. If you ever feel that it wasn't worth your money, please let us know and we will issue you a full, NO HASSLE refund for your investment.
You can't really afford not to invest in our California Employer Policies. It's easy to get started.
Start Protecting Your Business NOW!
Thanks for taking the time to read this. We wish you the best of luck with your business.
Sincerely,
John Fagerholm, CALIFORNIA EMPLOYER ATTORNEY