CALIFORNIA EMPLOYEE POLICIES & PROCEDURES HANDBOOK
What If You Could Instantly
Protect

Your Business With The Same Policies Used By The Largest Companies For A Fraction Of The Cost?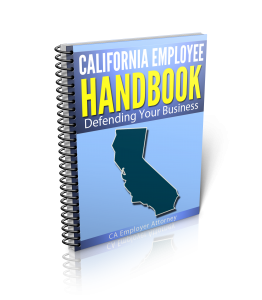 IF YOU CURRENTLY OWN A BUSINESS IN CALIFORNIA, OR IF YOU HAVE EMPLOYEES, THEN THIS INFORMATION IS FOR YOU.
Did you know that Forbes magazine recently ranked California as one of the 'Worst States for Business Owners to Get Sued'? California is one of the most regulated states in the nation for business and that leads to plenty of opportunities for employee lawsuits.
Studies show that 62% of  California Employers believe they will be sued by an employee at some point!
So what is the best way to protect your business and reduce chances of a costly lawsuit from an employee?
"The Most 

Helpful 

and 

Inexpensive

Way To

Protect

Your Business Is To Have Professional Attorney Drafted Employee Policies & Procedures!"
This minor investment NOW, can literally SAVE YOU THOUSANDS down the road!
Standard Employee Handbooks can actually be a weakness for your business. California laws change so quickly that employee side attorneys now look at your handbook to find outdated language you may have in it. Pretty evil huh?
Well we have found a way to fight back. We create you a custom 'Policies & Procedures Handbook'. Each policy is a one page contract with your employee. As laws get updated you simply need to pull the one effected policy, update it and have your employee sign it.
Which of these policies and procedures could you use for your Business?
Employee Welcome Letter
Description of Employment Relationship
Description of Payroll Policies
Harassment Policies
Employee Behavior Expectations
Drugs and Alcohol
Punctuality and Attendance
Dress Code
Electronic Media Policy (Computers, Cell Phones etc)
Benefits
Types of Leave
Termination Procedures
Dispute Resolution
Acknowledgement Agreement
Our Policies and Procedures have all of the above and MORE!
Contact us for a FREE Consultation to discuss your Policies and Procedures needs.
Thanks for taking the time to read this. We wish you the best of luck with your business.
Sincerely,
John Fagerholm, CALIFORNIA EMPLOYER ATTORNEY